LL COOL J HONORED WITH KEY TO THE CITY IN QUEENS, NEW YORK DURING FIRST ROCK THE BELLS FESTIVAL!!!
Written by torresanz on August 8, 2022
 LL COOL J was presented with a key to the city in his hometown of Queens, New York during the inaugural Rock The Bells Festival on Saturday (August 6). Speaker of the New York City Council Adrienne Adams presented the Hip Hop icon with the declaration as part of a special ceremony honoring his contributions to the culture.
Adams shared a handful of photos to her Twitter account of the event with the caption: "Hollis, Queens was represented today at @RockTheBells as the @NYCCouncil celebrated a true Queens legend, the one and only @llcoolj! It was an honor to present him with a proclamation acknowledging his undeniable impact on Hip Hop and popular culture."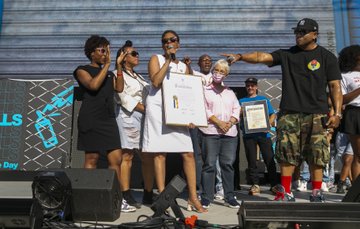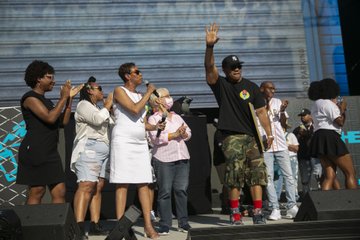 Hosted by Roxanne Shanté, sold-out festival boasted performances from Fat Joe, LL COOL J, Scarface, Ice Cube, Digable Planets, Jadakiss, The Diplomats and more. Partial proceeds from the ticket sales are going to the Universal Hip Hop Museum, which will open in a 52,000-square-foot space at the Bronx Point development at Mill Pond Park.
"I feel like Hip Hop is indisposable," LL COOL J said in a statement. "And I feel like, the same reverence and deference in the way Paul McCartney gets celebrated, the way Bob Dylan gets celebrated or Mick Jagger, I feel like these artists, these kings and queens, deserve that same treatment for this art form."
Speaking to HipHopDX, Shanté was confident the Rock The Bells Festival would return in 2023. As she explained, "When the Rock The Bells family put it together and decided we were going to have this festival, this musical reunion of everyone, it was only right that there were going to be family members that wanted to be included, but we just didn't have enough time.
"There's definitely another one coming because so many people were like, 'Oh, y'all having a party and didn't invite me?' It's like, 'No, we're inviting everybody, but everyone wouldn't have a chance to get on stage.'"
She added, "Look, we got to make it where everybody's going to get a chance. Trust me, if there's an artist here you didn't see, hold on. We're having another family reunion in another location and then you'll all be able to see them there and there'll be some new eats and new beats."
---
Reader's opinions
---